The Supreme court of India has delivered its judgment for the Shaheen bagh Protest. The Supreme court said that the protestors who are voicing their grievances against the government because of the government bill have every right to protest legitimately. (right to protest is a fundamental right) But the people who are moving from one place to another for the job, school, colleges or business, their life or rights are getting violated due to ongoing protest, so protestors can express their concern only in the designated area which is chosen by the administration. You have the right to descend but not have the right to create a nuisance.
The supreme court dismissed the review petition filed by 12 activists against its verdict. Supreme court said, right to protest can't take place any time and, anywhere, the protests which are spontaneous or instantaneous and, happening because of some particular issues are allowed but protest running for a longer period, occupying a public place, and violating rights of others section of people are not allowed or allowed in a chosen place only.
Rights of protestors: Protestors don't want to block a particular premise, but they are doing it because their grievances are not addressed by the executives or by the governments on a timely basis. There had been cases when charges have been framed against protestors, they have been arrested, so these people were also the suffers. What wrong supreme court is doing:
Any protest related to Farm Bill or CAA if the government or supreme court have taken the case and assertively deliver the judgment, in such a scenario all these protests would not come up. So, a major blunder is a judicial apathy or judicial procrastination.
The Supreme court is mediating with the protestors instead of delivering the judgment, which is beyond their real job.
Constitution gives power to the supreme court to act as the last expectation of people. However, if it is not acting as right umpire, maybe favoring government or delaying judgment, called abusive judicial review.
Whenever a constitution is amended according to the procedure as given by the constitution and is also complying with all the given rules and regulations and procedurally it is upright, but if it is not well on the substantive side it is called Unconstitutional constitutional amendment doctrine. Government has all rights to pass an amendment to the constitution and at the same time supreme court also has the right to declare that a particular bill is unconstitutional. And when the supreme court is not acting as right umpire and not calling this process unconstitutional or allowing anti-democratic projects of the government, this is called the abusive judicial review.
Judicial precedence, case of Himat Lal K. Shah vs Commissioner of Police, 1972 supreme court has said that the freedom of assembly is an essential element of a democratic system. Supreme court not considered this verdict of itself in the shaheen bagh case of Delhi.
In case the radicalization, protest, grievance are not addressed we require fair litigation means, where all the parties are given a fair hearing and justice is to deliver as soon as possible because: "Justice delayed is justice denied." In the public inquiry system, in case the government comes to know about the protest, the government will try to short out the grievances of protesters. All the concerns of protestors will be included or improved in the particular bill.
Shaheen bagh protest was happened against Citizenship Amendment Act, 2019
The Bill "Citizenship Amendment Act, 2019" amends the Citizenship Act, 1955, and seeks to make foreign illegal migrants or refugees of Hindu, Sikh, Buddhist, Jain, Parsi, and Christian religious communities coming from Afghanistan, Bangladesh, and Pakistan, who are religiously persecuted in there mother country, and entered India before 31 December, 2014 eligible for Indian citizenship. In other words, the Bill intends to make it easier for non-Muslim (minorities) immigrants from India's three Muslim-majority neighbors to become citizens of India, to ensure the better future for religious minorities persecuted in there mother country. An illegal immigrant is an illegal foreigner, having no document or a document with expired time limits came with intension of permanent stay; or refugee. However, India continues to host a large population of refugees. An illegal migrant can be prosecuted in India and deported or imprisoned under the Foreigners Act, 1946 and the Passport (Entry into India) Act, 1920.
In 2015 and 2016, the central government issued two notifications exempting Hindus, Sikhs, Buddhists, Jains, Parsis, and Christians from Afghanistan, Bangladesh, and Pakistan, who arrived in India on or before December 31, 2014, from provisions of the 1946 and the 1920 Acts. This implies that these groups of illegal migrants will not be deported or imprisoned for being in India without valid documents.
Citizenship can be acquired in two ways, one is "Jus Soli" commonly referred to as birthright citizenship, is the right of citizenship to anyone born in the territory of a state, this system is followed by the USA and India until 2003, and other is "Jus Sanguinis" is a principle by which citizenship is determined or acquired by the nationality or ethnicity of one or both parents., irrespective of the location of childbirth) this system was followed by India after 2003.
In India, citizenship is regulated by the Citizenship Act, 1955, which specifies that citizenship may be acquired in India through five methods – by birth in India, by descent (parents), through registration, by naturalization (extended residence in India), and by incorporation of the territory into India. What changes do this act will introduce:
Persons shall be deemed to be citizens of India from the date of their entry into India. All legal proceedings against them in respect of their illegal migration or citizenship will be closed.
The Bill reduces the period of acquiring citizenship by naturalization (A person can acquire citizenship by naturalization if he/she is ordinarily resident of India for 12 years) for such group of persons from six years to five years.
One of the qualifications is that the person must have resided in India or been in central government service for the last 12 months and at least 11 years of the preceding 14 years.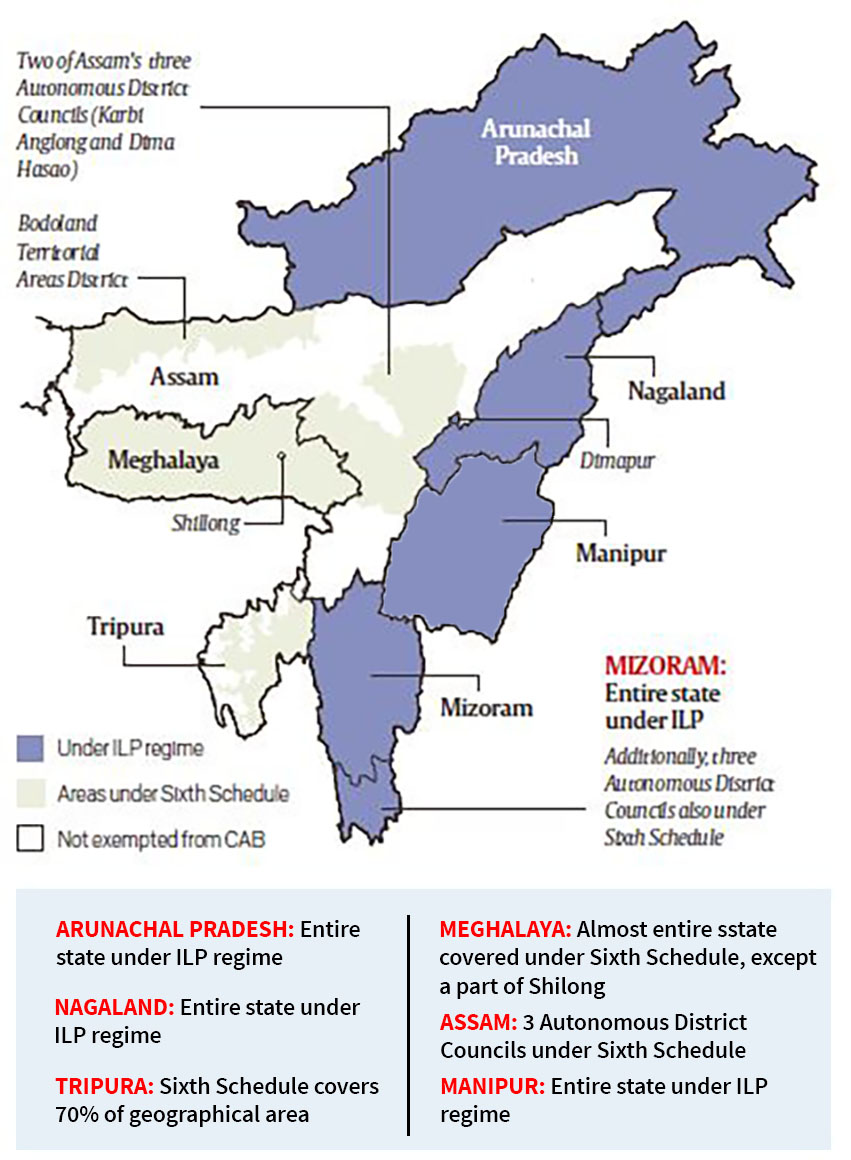 What are the issues related to the above described act:
Article 14 guarantees equality to all persons, including citizens and foreigners. The act provides differential treatment to illegal migrants based on:
Uninclusivity

Country of origin, (it provide citizenship only to migrants from Pakistan, Bangladesh, and Afghanistan)
Religion (it is excluding the Muslim and jews community) Ahmadiya Muslims are also facing persecution in Pakistan, Tamil Eelams in Sri-Lanka, the atheists in Bangladesh and Rohingya's of Myanmar are also minority community, it is unclear why illegal migrants from only six specified religious minorities have been included in the Bill, which is against the secular nature of our constitution.
Religious persecution only, racial discrimination, gender discrimination and caste discriminations are not included.
Date of entry into India, differential treatment of migrants based on their date of entry into India, i.e., whether they entered India before or after December 31, 2014.
Place of residence in India, it excludes illegal migrants residing in areas covered by the Sixth Schedule (the purpose behind the enactment of the Sixth Schedule of the Constitution was to aid in the development of tribal areas through autonomous councils while protecting the indigenous population in these areas from exploitation and preserving their distinct social customs), that is, notified tribal areas and also excludes the Inner Line Permit (required for better administration and applied in 1873) areas, i.e., Arunachal Pradesh, Mizoram, and Nagaland. Once an illegal migrant residing in these areas acquires citizenship, he would be subject to the same restrictions in these areas, as apply to other Indian citizens. Therefore, it is unclear why the Bill excludes illegal migrants residing in these areas. The ILP and 6th schedule area cover all other north eastern states completely, except 70% of Assam. Assam will increase the population inflow, when others are closing gates for illegal migrants.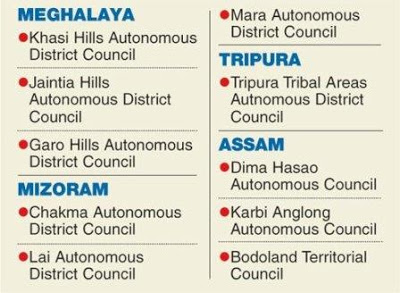 Supreme Court
Intelligible differentiation, the act should be sensible, to be understood.
Rational nexus should be proved, the purpose of act should be clear and established the purpose of intelligible differentia.
And Supreme court wok on the onus of proof to petitioner, means the supreme court took a presumption that the act is constitutionally valid and it's the duty of petitioner to prove it wrong.
The differentiation is never 100%.
Above described issues are the reason for the protest, which were not considered by the government.
Migrants may increase competition for the government or private jobs, and may also contribute in mixing their culture to the indigenous people may negatively affect to culture, language, resources of the region and marginalize the indigenous people in social, economic, and political aspects. To deal with the same politicians from the North-Eastern region were meeting with the union government to protect the integrity of the tribal regions. Inner line Permit (ILP) is of two types, one is for travel, and the other is for staying in the region for a prescribed time period. After this Citizenship Amendment Act, 2019 state governments bring additional areas under ILP, to exclude new citizens under the amended act.
Central government has not prescribed rules and regulations for the conduct of process. So, we can't say anything about that.
(Pictures from google)