Indian constitution provides citizenship under chapter 2 which deals with articles 5 to 11. The subject of citizenship is listed under the Union List. These articles were enforced on November 26, 1949, when the Constitution was adopted to provide Indian citizenship.
Citizenship prescribes the relationship between individual and state, recognized under law, is a legal member of a sovereign state or belonging to a nation. It is the status of having the most rights in a nation with civil, political, social, economic rights. Many fundamental rights are provided only to citizens such as article 15, 16, 19, 29, 30, the right to vote in elections to Lok Sabha and state legislative assembly and right to contest for the membership of parliament, and also eligibility to hold certain public offices that is President, Vice-president, Governor, judges of Supreme Court, etc.
People fight for citizenship to acquire more economic possibilities, to attain the benefits of a more developed state, and to get away with the persecution and discrimination they are facing in their mother country. Such as Rohingya in Myanmar, Christians in Sudan and Uganda, Indian Tamils in Sri-Lanka, and discrimination against women and other ethnic and religious minorities in Iran. India also hosts three types of people are:
Citizens (person with most rights legally)
Alien (a legal foreigner with visa or work permit or document of his identity for the USA and Japanese citizen or green card holder in the USA or Overseas Citizen Cardholder in India; an illegal foreigner, having no document or a document with expired time limits or illegal migrant, came with the intension of permanent stay; or refugee)
India has signed neither the 1951 United Nations Refugee Convention nor its 1967 Protocol, which has 140 signatories. However, India continues to host a large population of refugees.
Stateless person (person not a citizen of any country) discuss a here I want to discuss a case of Mehran Karimi Nasseri, a religiously persecuted Iranian refugee who stayed at Paris airport, France for 18 years. His autobiography "The terminal man" could be read.
There are two well-known principles for the grant of citizenship, 'jus soli' confers citizenship based on place of birth, and 'jus sanguinis' gives recognition to blood ties. Now is the time to see the provisions of citizenship under Article 5 to 11 at the commencement of the Indian constitution.
Article 5: Citizenship to a person have their domicile in Indian territory, or of ordinary resident for more than 5 years at the commencement of the Constitution.
Article 6: Person or either of parent or grandparents born in undivided India who migrated to India from Pakistan before July 19, 1949, and ordinarily resident since the date of migration; or In case such as a person has migrated after July 19th, 1948 and he has been registered as a citizen of India by an officer appointed in that behalf by the government of India. But a person could be registered only if he is residing in India for the last six months.
Article 7: Person had migrated to Pakistan after March 1, 1947, but subsequently returned to India. However, a person could be registered only if he is residing in India for the last six months.
Article 8: Persons of Indian origin residing outside India, or either of whose parents or grandparents, was born in India could register themselves.
Article 9: It says the Indian constitution is against dual citizenship, and if the person voluntarily acquiring citizenship of a foreign country will not be a citizen of India.
Article 10: Any person who is considered aa a citizen of India under any of the provisions, shall continue to be a citizen and will also be subject to any law made by the Parliament.
Article 11: Parliament to regulate the right of citizenship by law. The parliament has the right to make any provision concerning the acquisition and termination of citizenship and any other related matter, thus it is under the exclusive jurisdiction of Parliament.
The provisions under the Articles were changed by Citizenship Act, 1955 is now the legislative dealing with citizenship. It is the base act, has been amended by the Citizenship (Amendment) Act 1986, the Citizenship (Amendment) Act 1992, the Citizenship (Amendment) Act 2003, and the Citizenship (Amendment) Act, 2005, and now the Citizenship (Amendment) Act, 2019. Let's understand the norms written in the Citizenship Act, 1955 for acquiring citizenship of India:
Citizenship by birth: A person born in India on or after 26 January 1950 but before 01 July 1987 is an Indian citizen irrespective of the nationality of his/her parents, or person born in India between 01 July 1987 and 02 December 2004 is a citizen of India given either of his/her parents is a citizen of the country at the time of his/her birth or a person born in India on or after 3 December 2004 is a citizen of the country given both his/her parents are Indians or at least one parent is a citizen and the other is not an illegal migrant at the time of birth.
Citizenship by descent: A person born outside India on or after January 26, 1950, but before 10 December 1992 is a citizen of India by descent if his/her father was a citizen of India by birth or a person born outside India on or after December 10, 1992, but before December 3, 2004, if either of his/her parents was a citizen of India by birth, or after 3 December 2004 person born outside India shall not be a citizen unless his birth is registered in Indian consulate within one year of birth.
Citizenship by registration: Citizenship can also be acquired by registration by following mandatory rules: A person of Indian origin residing outside India, or a person who is married to an Indian citizen, or Minor children of persons who are citizens of India, who has been a resident of India for 7 years before applying for registration,
Citizenship by naturalization: A person ordinarily resident of India for 12 years, and fulfills all qualifications in the third schedule of the Citizenship Act. However, the Government of India may waive all or any condition for naturalization in case of the person who rendered distinguished service to science, philosophy, art, literature, world peace, or human progress, for example, Avram Noam Chomsky of America or Mehdi Hasan Khan from Pakistan, etc.
By incorporation of territory (by the Government of India) such as when Pondicherry, Chandernagar acquired from France in 1962, and acquisitions of Goa, Daman, and Diu, Dadar Nagar haveli from Portugal in 1961 and Sikkim in 1974.
Termination of Indian Citizenship
Renunciation: If any citizen of India who is also a citizen of another country, and renounces his Indian citizenship. When a male person ceases to be a citizen of India, his every minor will also cease to be a citizen of India. However, such a child may within one year after attaining full age become an Indian citizen by making a declaration of his intention to resume Indian citizen­ship.
Termination: Indian citizenship would be terminated if a citizen knowingly or voluntarily adopts the citizenship of any other foreign country.
Deprivation: The government of India can deprive a person of his citizenship, if a citizen obtains citizenship by fraud, or is disloyal to the constitution of India, or indulge in unlawful trade, or communicated with the enemy during the war, etc.
Now comes the point of illegal migration, some years after independence to and fro movements were allowed to help people settle at the place of their choice. In 1946 Hindu population in Pakistan was 24% which is now 1.5%, and in 1941 Muslim population in Indian Punjab was 32%, in 1951 which reduced to 0.8%. They may be killed (the possibility is less) or migrated. In 1941 in Bangladesh, 28% were Hindu, which reduces to 22% in 1951, and in 2018 it further reduced to 8.5% of the population. The problem here is the migration from Pakistan was confined around some years around independence, but from Bangladesh, it is continuing till today and contributing to the stress of Assam and other North-East states. India is also not having proper prescribed laws or policy to deal but have an ad hoc policy.
Between 1950 to 1985 immigration from Afghanistan was nearly 15,000 Sikh and Hindu's. 10,000 Dalit and Hindus migrated from Pakistan to India in the early days of independence. In 1959, nearly 80,000 Tibetan followers of the Dalai Lama came to stay as temporary refugees and settled all over India. In 1982 by Burma Citizenship Law, the Myanmar government had snatched citizenship from Rohingya's (Muslim's and Hindu's) it also contributed to the military's acts of genocide against them, which led to flee of some 6 to 7 lakh people to Bangladesh and 20,000 to 30,000 person to India. In the same tone, the Sri-Lankan government had deprived Indian Tamils of citizenship by the Ceylon Citizenship Act of 1948, and contributed to 7 lakh stateless people, out of that 4.5 lakh people were already granted Indian citizenship and some 1 lakh on the way to it under an agreement with Sri-Lankan government. Now comes the most problematic contributor that is Bangladesh, responsible for about 2 crores of migrants in Assam.
History of migration in Assam
In 1826, the British acquired Assam and Manipur from Burma (Myanmar) after the First Anglo Burmese War. Kingdoms included the Ahom Kingdom, Kachari kingdom, and many others in the area of Meghalaya, Arunachala Pradesh, Nagaland, and Manipur, without asking their will for integration. The Assam area was rich in resources but less in population, but the nearby Bengal province was of fewer resources and more population. British introduced tea plantations and oil farming which is labor-based and attracted huge labor from Bengal, Bihar, and Odisha. The rate of migration you can imagine from the comment of Chief Commissioner of 1931 census, who said that the demography of Assam has changed and the indigenous population is now the minority in their area, and we know how much northeastern population is worried about their culture.
In 1947 one reason for migration was culture, and language, and the others for the sake of employment. It was enough to shiver the Nehru for the future consequences, and forced him to pass the Immigrants (Expulsion from Assam) Act, 1950. The act provides for the expulsion of immigrants who had migrated to Assam and started living in different parts of the country, which turned detrimental to the country. The interests of the general public of India were compromised. However, the rights of minorities and persecuted population would be considered. Then comes the Nehru-Liaquat Pact, 1950 which said refugees were to return to dispose of their property, abducted women and looted property were to be returned, forced conversions were unrecognized, and minority rights were confirmed. The Jawahar Lal Nehru was so worried that he secretly conducted the first NRC document to recognize the real population of Assam.
After independence, West Pakistan was forcing the language Urdu to East Pakistan, which resulted in a protest, and on 21 February 1952 police attack the protestors and kill many. (since then Bangladeshi celebrate this day as "Bengali Language Day") Frequent attacks forced around 22.5 lakh protestors to cross the Indian border. (data from United Nations) In 1964 the short period of Lal Bahadur Shastri was also focused on updating of NRC, issuing National identity cards and also to arrest foreigners under the Foreigners Act, 1946, and install foreign tribunals to fast forward the cases. However, after him Indira–Mujib agreement was signed on March 19, 1972, between the then Indian Prime Minister Indira Gandhi and Bangladeshi Prime Minister Sheikh Mujibur Rahman, determining various issues of the two countries, including 1971 as the cut-off year to identify the Bangladeshi infiltrators/refugees to India.
Again in 1965, migration increased as the forces were involved in the Indo-Pak war and there was difficulty in controlling the migrants. And in 1971 when Bangladesh fought a war of independence with West Pakistan. The Operation Search Light or Bangla Mukti Abhiyaan killed 3 lakh people conducted by West Pakistan. The unpleasant condition persisted for a long and forced common people to move across the border which resulted in huge migration. After the independence of Bangladesh, the migrations are slow but continuous. The country is small with the 8th largest populous nation in the world with a number of natural calamities, huge competition for employments, and lack of land to settle.
Assam protest for its indigenous culture
Assam is boiling since it was acquired by the British without the Assamese's will, and the continuous ingestion of migrants who were diluting their culture was distressing. The protest took a political outlook in 1978 when Assamese denied participating in the election of Legislative Assembly. The support was that strong that paralyzed the efforts of the center to conduct the election, and it was only able to fill 2 seats out of 12, the rest remains empty. The reason for the protest was the inclusion of 40 lakh illegal migrants in the electoral roll.
All Assam Students Union or AASU and All Assam Gana Sangram Parishad or AAGSP leads the protest and announced to boycott the election till the Detention, Deletion (from electoral roll), and Deportation (send back) of Illegal migrants to their source country. The protest was so severe, that the center disbanded the Assamese government and applied President rule. Top leaders of the protest (Praful Kumar Mahant and Bhrigu Kumar Phukan from AASU; and Biraj Kumar Sarma from AAGSP) were in continuous touch with the central government to normalize the conditions. However, no agreement was established between both. The government was stuck at 1971 as the cutoff year according to the Indira–Mujib agreement but protestors wanted 1951, to be the year of deportation.
Indira Gandhi was so determined to conduct the election of the Legislative Assembly, and she deported nearly 100 CRPF companies to peacefully conduct the election. AASU and AAGSP protestors were jailed, and newspaper publishing against the government were censored. The elections were conducted with 32% votes. But the locals were not happy, or whatever reason was that a "Nellie massacre" took place, which is responsible for the lives of 2191 people that shook the state. However, the center had not taken any serious steps. A Tiwari commission was established to inquire about the incident, whose report is still not in the public domain.
The government passed a law called Illegal Migrants (Determination by Tribunal) Act, 1983 only for Assam, which was annulled by the Supreme Court in 2005 after a petition filed by Sarbananda Sonowal. The Supreme court said why the state of Assam is having different rules from other parts of the country were included under Foreigner Act, 1946, and declared it an unsuccessful act with less conviction rate of 0.5%. The new Prime Minister Rajiv Gandhi, after the assassination of Prime Minister Indira Gandhi, was determined to solve this issue and signed an agreement called "Assam Accord, 1985." The signatory to the accord were the Central home secretary, Chief secretary of the Assam government, and 3 leaders, Praful Kumar Mahant and Bhrigu Kumar Phukan from AASU; and Biraj Kumar Sarma from AAGSP.
Assam Accord, 1985
It was a Memorandum of Settlement (MoS) signed between representatives of the Government of India and the leaders of the Assam Movement in New Delhi on 15 August 1985.
The accord brought an end to the Assam Agitation and paved the way for the leaders of the agitation to form a political party and form a government in the state of Assam soon after.
As per the Accord, those Bangladeshis who came between 1966 and 1971 will be barred from voting for ten years. The Accord also mentions that the international borders will be sealed and all persons who crossed over from Bangladesh after 1971 are to be deported. And to identify the foreigners NPR and NRC were promised.
Other efforts of government
Some of the key clauses are yet to be implemented, which has kept some of the issues festering. The government efforts were always there to implement and solve the Assam crisis, which we will see now.
In 2000 The Passport (Entry Into India) Amendment Act, to amend Passport (Entry into India) Act, 1920.

The term of imprisonment was extended from three months to five years, and the attached fine was also increased.

Also delete the possibility of acquiring citizenship to illegal migrants by registration and naturalization in The Citizenship (Amendment) Act, 2003. Children of Illegal migrants would not be registered as Indian citizens by the same procedure.
The Foreigners (Amendment) Act, 2004 was also tightened, if a person enters a nation without a valid document, the imprisonment term may extend to eight years, with a fine.
Citizenship Amendment Act, 2019
The Bill "Citizenship Amendment Act, 2019" amends the Citizenship Act, 1955, and seeks to make foreign illegal migrants or refugees of Hindu, Sikh, Buddhist, Jain, Parsi, and Christian religious communities coming from Afghanistan, Bangladesh, and Pakistan, who are religiously persecuted in there mother country, and entered India before 31 December, 2014 eligible for Indian citizenship. In other words, the Bill intends to make it easier for non-Muslim (minorities) immigrants from India's three Muslim-majority neighbors to become citizens of India, to ensure the better future for religious minorities persecuted in there mother country. An illegal immigrant is an illegal foreigner, having no document or a document with expired time limits came with intension of permanent stay; or refugee. However, India continues to host a large population of refugees. An illegal migrant can be prosecuted in India and deported or imprisoned under the Foreigners Act, 1946 and the Passport (Entry into India) Act, 1920.
In 2015 and 2016, the central government issued two notifications exempting Hindus, Sikhs, Buddhists, Jains, Parsis, and Christians from Afghanistan, Bangladesh, and Pakistan, who arrived in India on or before December 31, 2014, from provisions of the 1946 and the 1920 Acts. This implies that these groups of illegal migrants will not be deported or imprisoned for being in India without valid documents.
Citizenship can be acquired in two ways, one is "Jus Soli" commonly referred to as birthright citizenship, is the right of citizenship to anyone born in the territory of a state, this system is followed by the USA and India until 2003, and other is "Jus Sanguinis" is a principle by which citizenship is determined or acquired by the nationality or ethnicity of one or both parents., irrespective of the location of childbirth) this system was followed by India after 2003.
In India, citizenship is regulated by the Citizenship Act, 1955, which specifies that citizenship may be acquired in India through five methods – by birth in India, by descent (parents), through registration, by naturalization (extended residence in India), and by incorporation of the territory into India. What changes do this act will introduce:
Persons shall be deemed to be citizens of India from the date of their entry into India. All legal proceedings against them in respect of their illegal migration or citizenship will be closed.
The Bill reduces the period of acquiring citizenship by naturalization (A person can acquire citizenship by naturalization if he/she is ordinarily resident of India for 12 years) for such group of persons from six years to five years.
One of the qualifications is that the person must have resided in India or been in central government service for the last 12 months and at least 11 years of the preceding 14 years.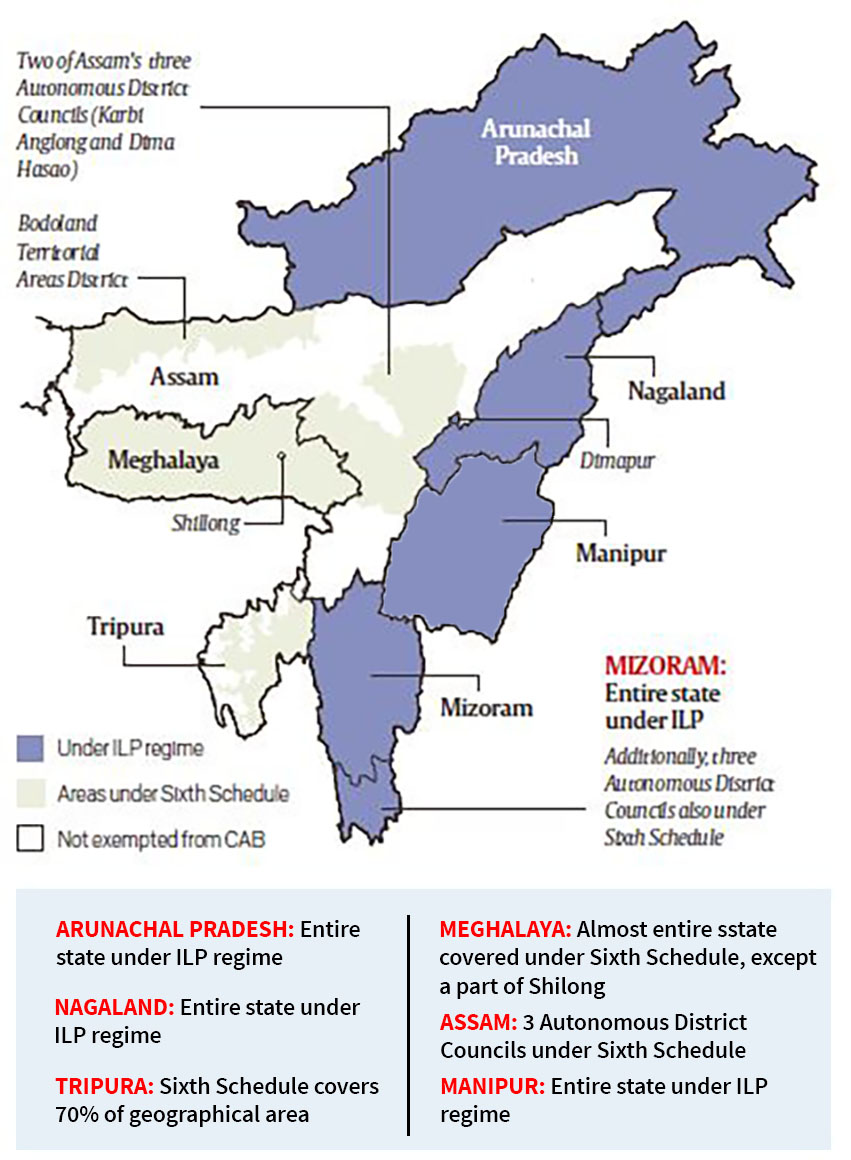 What are the issues related to the above described act:
Article 14 guarantees equality to all persons, including citizens and foreigners. The act provides differential treatment to illegal migrants based on:
Uninclusivity

Country of origin, (it provide citizenship only to migrants from Pakistan, Bangladesh, and Afghanistan)
Religion (it is excluding the Muslim and jews community) Ahmadiya Muslims are also facing persecution in Pakistan, Tamil Eelams in Sri-Lanka, the atheists in Bangladesh and Rohingya's of Myanmar are also minority community, it is unclear why illegal migrants from only six specified religious minorities have been included in the Bill, which is against the secular nature of our constitution.
Religious persecution only, racial discrimination, gender discrimination and caste discriminations are not included.
Date of entry into India, differential treatment of migrants based on their date of entry into India, i.e., whether they entered India before or after December 31, 2014.
Place of residence in India, it excludes illegal migrants residing in areas covered by the Sixth Schedule (the purpose behind the enactment of the Sixth Schedule of the Constitution was to aid in the development of tribal areas through autonomous councils while protecting the indigenous population in these areas from exploitation and preserving their distinct social customs), that is, notified tribal areas and also excludes the Inner Line Permit (required for better administration and applied in 1873) areas, i.e., Arunachal Pradesh, Mizoram, and Nagaland. Once an illegal migrant residing in these areas acquires citizenship, he would be subject to the same restrictions in these areas, as apply to other Indian citizens. Therefore, it is unclear why the Bill excludes illegal migrants residing in these areas. The ILP and 6th schedule area cover all other north eastern states completely, except 70% of Assam. Assam will increase the population inflow, when others are closing gates for illegal migrants.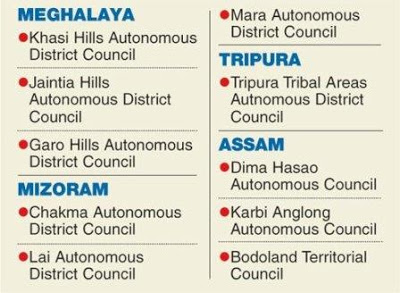 Supreme Court
Intelligible differentiation, the act should be sensible, to be understood.
Rational nexus should be proved, the purpose of act should be clear and established the purpose of intelligible differentia.
And Supreme court wok on the onus of proof to petitioner, means the supreme court took a presumption that the act is constitutionally valid and it's the duty of petitioner to prove it wrong.
National Population register
The National Population Register (NPR) is a document of the population of an area, which include usual residents. A "usual resident of the country" has been residing in a local area for at least the last six months or intends to stay in a particular location for the next six months. This document also includes the data if any foreigner is fulfilling of being a usual resident.
It is an updation exercise that will be undertaken alongside Census 2021, conducted by the Office of the Registrar General of India (RGI) under the Home Ministry, throughout the total length and breadth of the country. The exercise was first conducted in 2010, along with the house listing phase of Census 2011, and updated again in 2015 by a door-to-door survey. The exercise is conducted at the local, sub-district, district, state, and national levels.
It includes biometric data with demographic data, and Passport number, Voter ID number, Driving License numbers, Mobile number, Ration card number, and Aadhar number, etc. It will streamline data of residents across various platforms, will help the government formulate its policies better, and also aid national security. It will help to target government beneficiaries in a better way and also further cut down paperwork and red tape. It will help in implementing the idea of 'One Identity Card' that has been recently floated by the government. However, there is no clarity on the mechanism for the protection of the vast amount of data that will be collected through NPR.
National Register of Citizens
It is maintained by the Government of India, holds all the important information of the Indian citizens of Assam required for their identification. It was during a parliamentary session on 20th November 2019 when Home Minister Amit Shah declared an extension of NRC to the entire country. The implementation of NRC across the country is expected to start after the end of the COVID vaccination drive. It will be conducted along census with no extra costs. However, the Citizenship (Registration of Citizens and Issue of National Identity Cards) Rules in December 2003 is having all rules required for the conduct of the national National Register of Citizens and National Population Register. The exercise is conducted at the local, sub-district, district, state, and national levels.
NRC in Assam, 2019
There had been intermittent demands from AASU and other organizations in Assam for updating the NRC, an Assam-based NGO filed a petition at the Supreme Court. The NRC of 1951 and the Electoral Roll of 1971 (up to midnight of 24 March 1971) are together called Legacy Data. Persons and their descendants whose names appeared in these documents are certified as Indian citizens. The data will be continuously updated by the Registration of Births and Deaths Act, 1969.
The problem appears of false inclusion and exclusion, which is a part of a corrupt society, where any false document could be created easily. The data says 3.3 crore people applied for NRC, and out of that 3.13 crore people got a place under the NRC, and only 19 lakh are excluded and out of that 12 lakh are non-Muslims.
What issues regarding the NRC's?
The inclusion of people in NRC who were declared a foreigner by Foreigner Tribunals, or people who were doubtful voters in the electoral roll, and pending cases in Foreign Tribunals, and the descendants of above-described persons. As a case came of Rahima Begum, who was included in the list wrongfully. The Assam government asked the Supreme court to counter-check 20% inclusion in border districts. Though the draft provides a window for re-verification, due to the large number of people being excluded from the list, it will be very difficult to physically verify all of them.
The person not included in NRC, can fill a case in foreign tribunals, and if Foreign Tribunals also declare the person to be foreign, one can fill a petition in High courts, and their decision will be final. The person could be put in detention centers for deportation. The condition of detention centers should remain humane, education facilities should be provided to children and good food, fresh water, and a lawyer, connection with their embassy should be ensured for adults.
The excluded members are 60-70% women, as after marriage their name changed as we are patrilocal society, if not updated all documents are invalid. They don't have educational certificates or land registrations on their names.
The government should be conscious about the deprived section of society such as orphan children, nomadic tribes, LGBT community, Mentally challenged person, and beggars, etc.
The financial cost of the process will stress upon taxpayers, a countrywide NRC would be conducted, will exclude nearly 1.5 crore people, and if we take 5000/person it will cost 54,000 crores, which is a huge cost.
Since such 'noncitizens' can resort to judicial relief to substantiate their citizenship claim, it can lead to overburdening of the judiciary which already reels under the large number of pending cases, which could indulge in other productive work. The government should discourage detain in foreign tribunals, as after 3 years they will be free to leave detention centers.
Social tension, the extension of this issue would trigger communal clashes in society, will disturb the balance of the society.
Citizenship is subject to a union list, and states are bound to follow the center's orders. If states will not, they may be subject to president rule under article 356 of the Indian constitution.
Expelling them to Bangladesh is not an option since Dhaka has never accepted that they are its citizens or that there is a problem of illegal immigration. In the absence of a formal agreement, India cannot forcibly push the illegal migrants back into Bangladesh. The government should maintain talks with the Bangladeshi government to deport people legally. The need of the hour is that Union Government should chart out the course of action regarding the fate of excluded people from final NRC data and political parties should refrain from coloring the entire NRC process through electoral prospects that may snowball into communal violence. The process must be transparent with a practical solution. The people not deported, could be relocated to other places. India, as a country that follows the ideology of 'Vasudhaiva Kutumbakam', should not be hasty in taking decisions that can disenfranchise her citizens – contradicting its centuries-followed values.
The document created after this process will be equipped with all details like medical history, insurance, address, vehicles registered, and family legacy that could be approached just by a single number.
(Pictures from google)